Are you looking for a solution for your industry or do you have a technical problem that needs solving?
Return
Quality guardians from factory to shelf
Specialists for refrigeration equipment from MB Frigo Group have written their comments where they instruct investors on what they should pay attention to when choosing refrigeration equipment.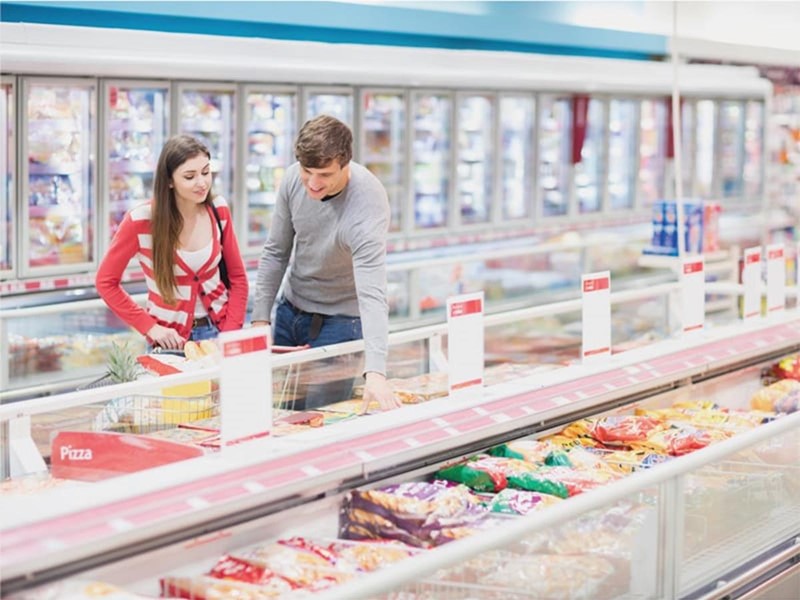 In the specialized magazine for retail and consumer goods industry in Croatia "JaTrgovac" you can read the article "Quality guardians from Factory to Shelf". The article focuses on the role of refrigeration and air conditioning devices and elaborates why they are of crucial importance in the chain, from production through transport and retail to the consumers' homes. Refrigeration equipment specialists from MB Frigo Group wrote their comments in the aforementioned article, instructing investors to what they should pay attention to when choosing refrigeration equipment. Maintaining quality We asked experts from MB Frigo Grupa, a company that specializes in this segment, to comment on the importance of air conditioning and refrigeration devices. They point out that air conditioning devices ensure the comfort of both customers and employees, and emphasize that at the same time, the main function of a refrigeration device is to provide top quality, durability of shelf-life, and freshness of the products. One of the fundamental branches of retail is food production, in which refrigeration devices play a very important role because they enable the preservation of product quality throughout the entire time: from the factory, i.e. the production line, during internal transport, processing, storage, and transport to local stores, all the way to the homes of end consumers. Also, thanks to the cooling devices, we have the possibility to eat a variety of food from faraway parts of the world and we can afford various fruits and vegetables at any time, regardless of the season", they tell us at MB Frigo. Such progress was made possible by the technology of air-conditioning and refrigeration systems, which has been developing at a galloping pace, due to market trends and norms that dictate the minimum allowed energy efficiency. The rapid development of this technology is best seen when we compare today's air-conditioning and refrigeration systems with those from 10 or 15 years ago. The shift is visible in the significant reduction in electricity consumption, the use of components that do not endanger the environment and in the maximum utilization of the system, as well as adaptation to the needs of the investor or the end user. In order to make maximum use of capacities, increase energy efficiency, achieve comfort, and ensure product quality, it is necessary to adapt air conditioning and cooling solutions to each individual client, they emphasize in MB Frigo. They also point out that consumer goods stores fall into the category of buildings with higher energy consumption because of the refrigeration systems. " That is why it is extremely important to design and project a refrigeration system in a high-quality manner, which can, if necessary, have the option of renewable energy in order to reduce the consumption of a certain part of the system", the company points out, adding that it is possible, for example, to design systems that use "waste heat" to provide hot water that can be used to heat certain areas of the store or to clean the facility itself. The importance of protecting the environment when it comes to refrigeration technology is also witnessed in MB Frigo. "Refrigeration equipment markets in the EU started to change drastically due to European regulations that limit the use of freon in cooling technology. It is about the F-Gas regulation that entered into force on January 1 this year, the goal of which is to reduce the detrimental impact on global climate change. Its greatest impact will be felt by users of refrigeration systems in the food chain, specifically the food and beverage production sector, the trade sector, and the catering sector", they explain in MB Frigo, reminding us that refrigeration systems are indispensable parts in these economic branches that require special attention. Since the beginning of this year, freons with a global warming potential (GWP) greater than 2500 have been banned as refrigerants (e.g. refrigerant R404A, which is most often used in cooling systems in retail stores of various formats), most devices, and equipment that previously used it for cooling systems will no longer be available for putting on the market. Therefore, the decision to invest in new refrigeration equipment with natural refrigerants is a necessity, because today in Croatia, systems that are in use mainly use R 404A as refrigerant, for which significant limitations have already come into effect. "Looking long term, with refrigeration units that use CO2 as a refrigerant, investors invest in the future, lower the costs of permanent operation and maintenance, and additionally become active participants in preserving the environment", advises this company specializing in all cooling techniques. MB Frigo Group, together with Carel, the world-renowned manufacturer of components for refrigeration equipment, presented solutions for refrigeration systems for commercial and industrial refrigeration that are fully compliant with the F-Gas regulation. Their first CO2 refrigeration units are already in use, and among the first customers is a domestic company that deals with catching, buying, and distributing fresh and frozen fish.